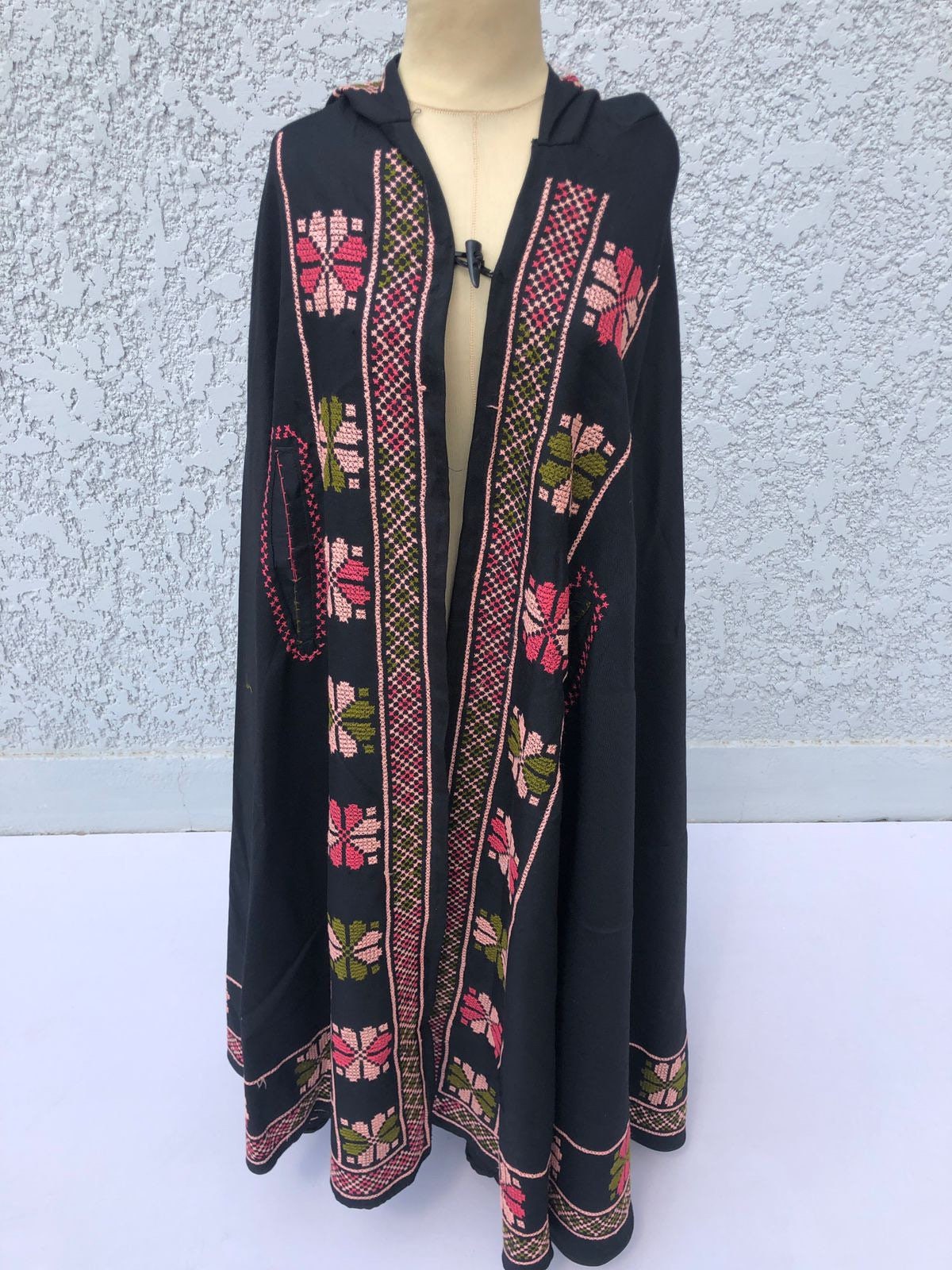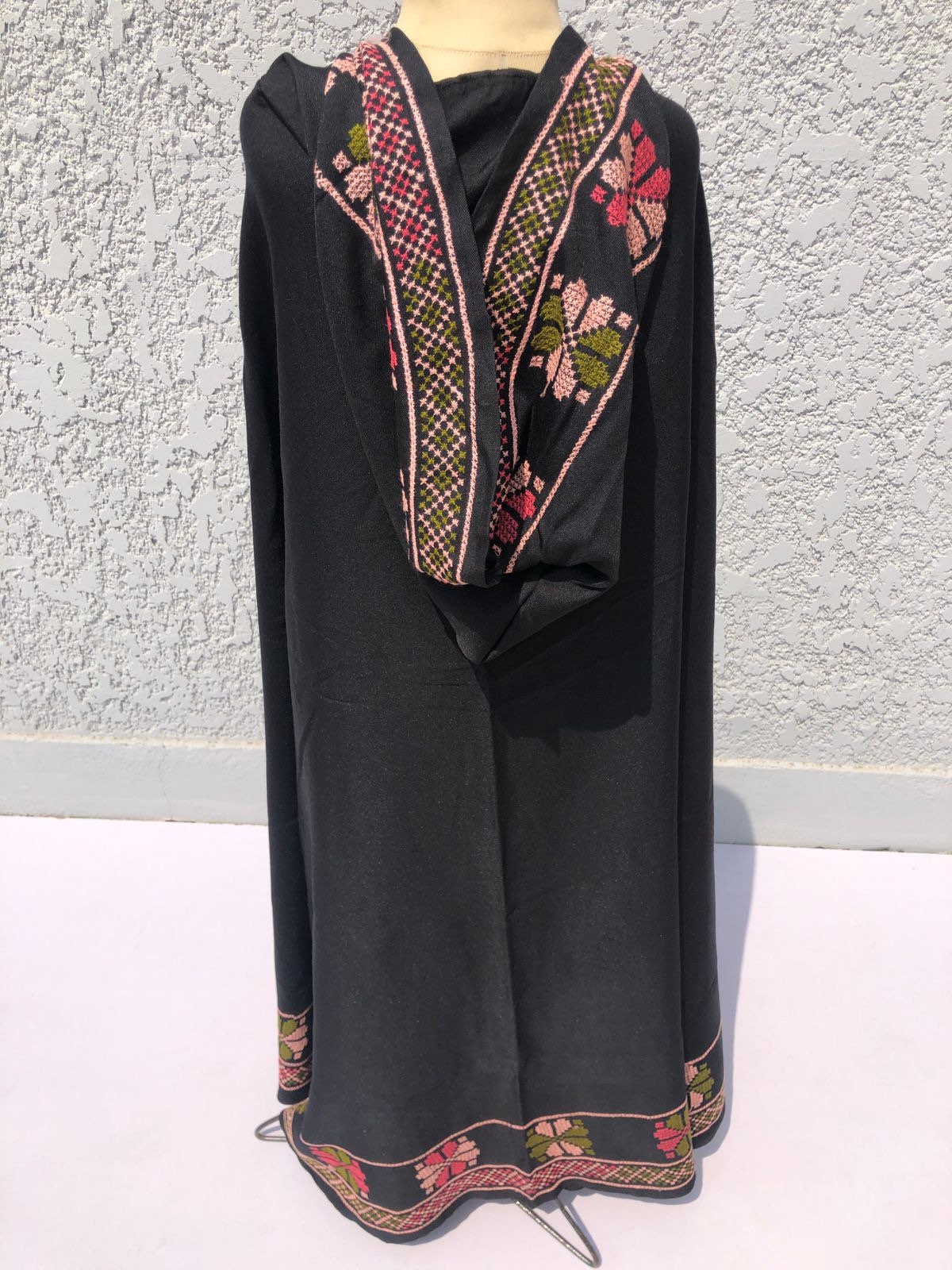 Beoduin Hand embroidered hooded wool cape, Bohemian Hooded Cloak, Boho tribal winter hooded cloak, Moroccan cape, Hand embroidered cape
**Note : the cape we have in stock has slightly different color embroidery than the one worn by the model and is displayed in the last picture on the mannequin.**
This hand embroidered cape is a bohemian dream. It is 100% hand embroidered with geometrical patterns by a group of young girls in the Sinai peninsula. It takes up a month for a group of girls to hand embroider the cape. It has a small kangaroo style holes to rest your arms in them. It can be used over a jeans and shirt or sweater. It hangs off your shoulder and can be strapped with the hanging laces. It's made of wool, that is not necessarily heavy, so it could work more for the chillier summer/spring/autumn nights.
Material : Wool
Length : 49 inches
Size : Free size
We ship your order with DHL express within one to two business days. Orders to Europe will typically arrive within 2 to 3 business days and to USA within 3 to 5 business days from the date of shipping.
**Please note that shipping to these locations in the USA and Canada is subject to $20 extra shipping costs :
USA - Montana, Alabama
USA - Georgia
USA - Certain parts of Arizona
Canada - Montreal
Canada - Alberta
***
FAQ
Do the clothes shrink after washing?
No they don't. Most of our dresses are a mixture of cotton and polyester and so there's minimal to no shrinkage. The cotton/poly dresses can be machine washed and hung dry to preserve the embroidery.
Where is your shop located?
We are an online based fashion brand located in the land of the pharaohs Cairo, Egypt. This might seem far, but we ship our products Express and most of our customers have told us that our products arrive faster than some items they order inside the USA.
For any queries you can whatsapp us at :
+201205822115
What if i order the wrong size?
Don't worry! If you order the wrong size and would like to exchange for another size, we will send you a replacement for a marginal value around $30 for most dresses. Just reach out to us at the following email and we will resolve it :
gipcico@gmail.com
Shipping
Fast shipping
We ship our orders with UPS express so you will receive your order in the US within 3 to 4 working days.
Order tracking
We will send you a UPS tracking number so that you can see where your order is.
Returns & refunds
If you're not 100% satisfied with the product, contact us the email below and we will provide you with a full refund or send you a replacement for a marginal value.
gipcico@gmail.com
Reviews
I'm so happy with my purchase! ⭐️ thanks!...
I'm so happy with my purchase! ⭐️ thanks! hoping to see this design coming soon in Different colours options! ^-^