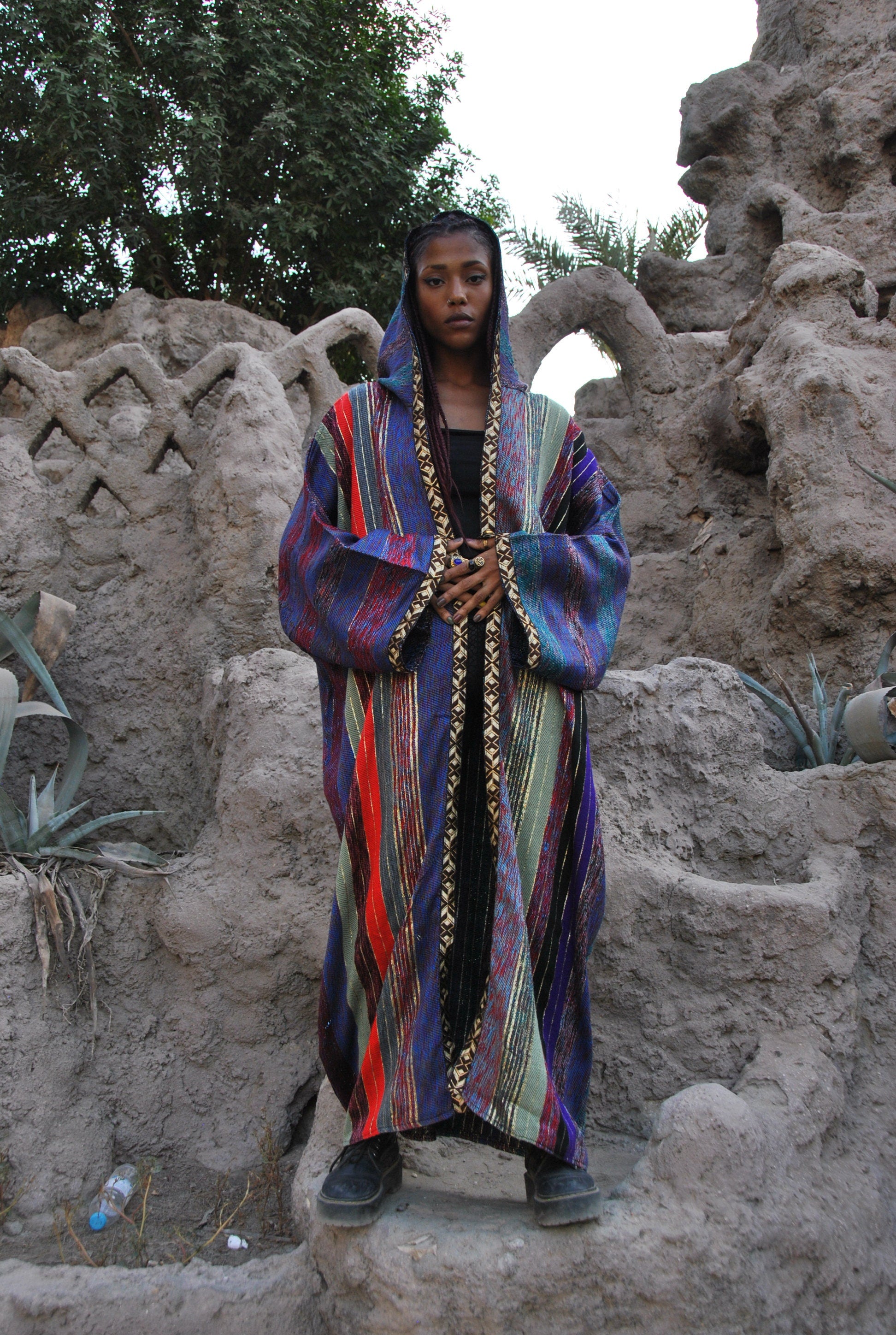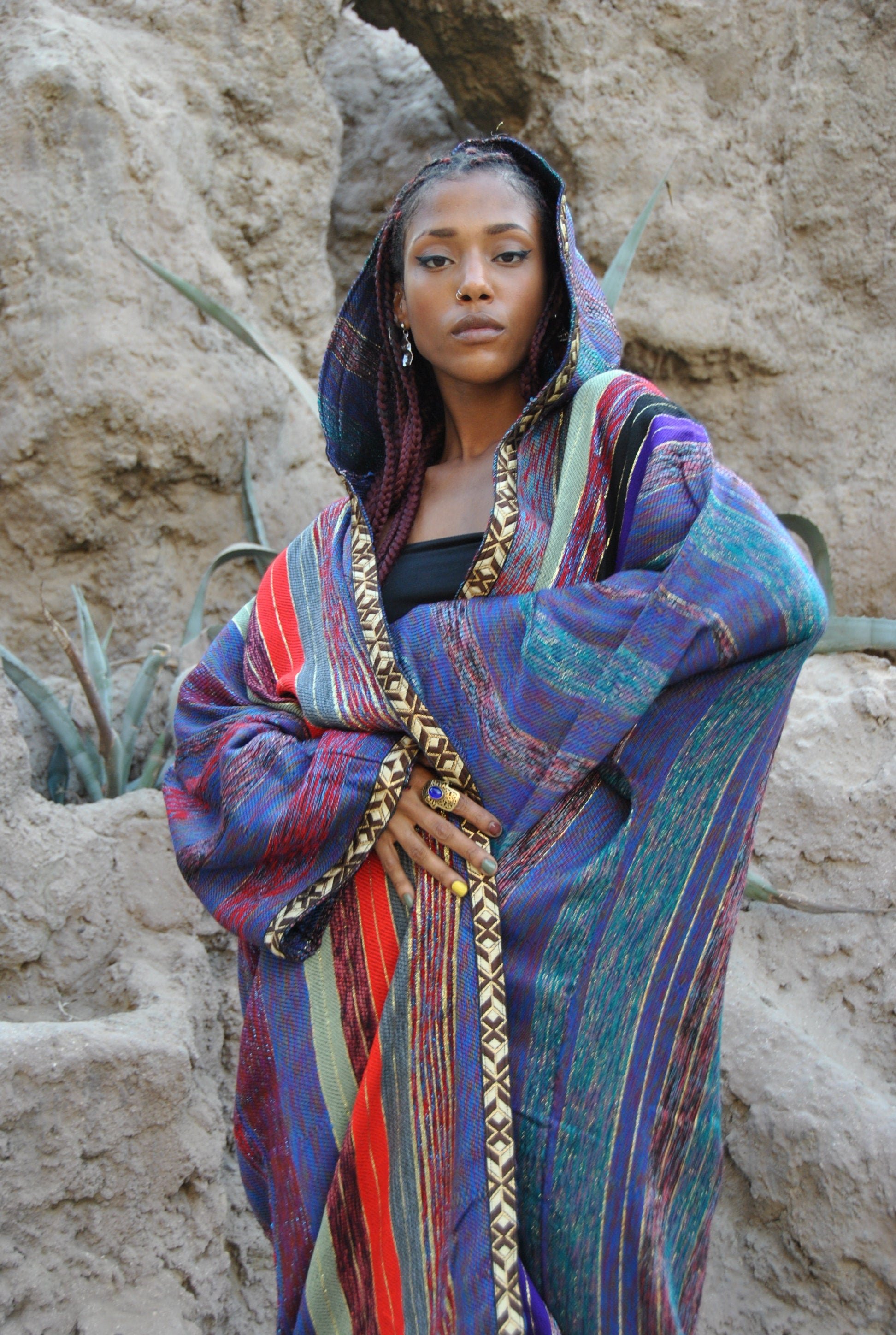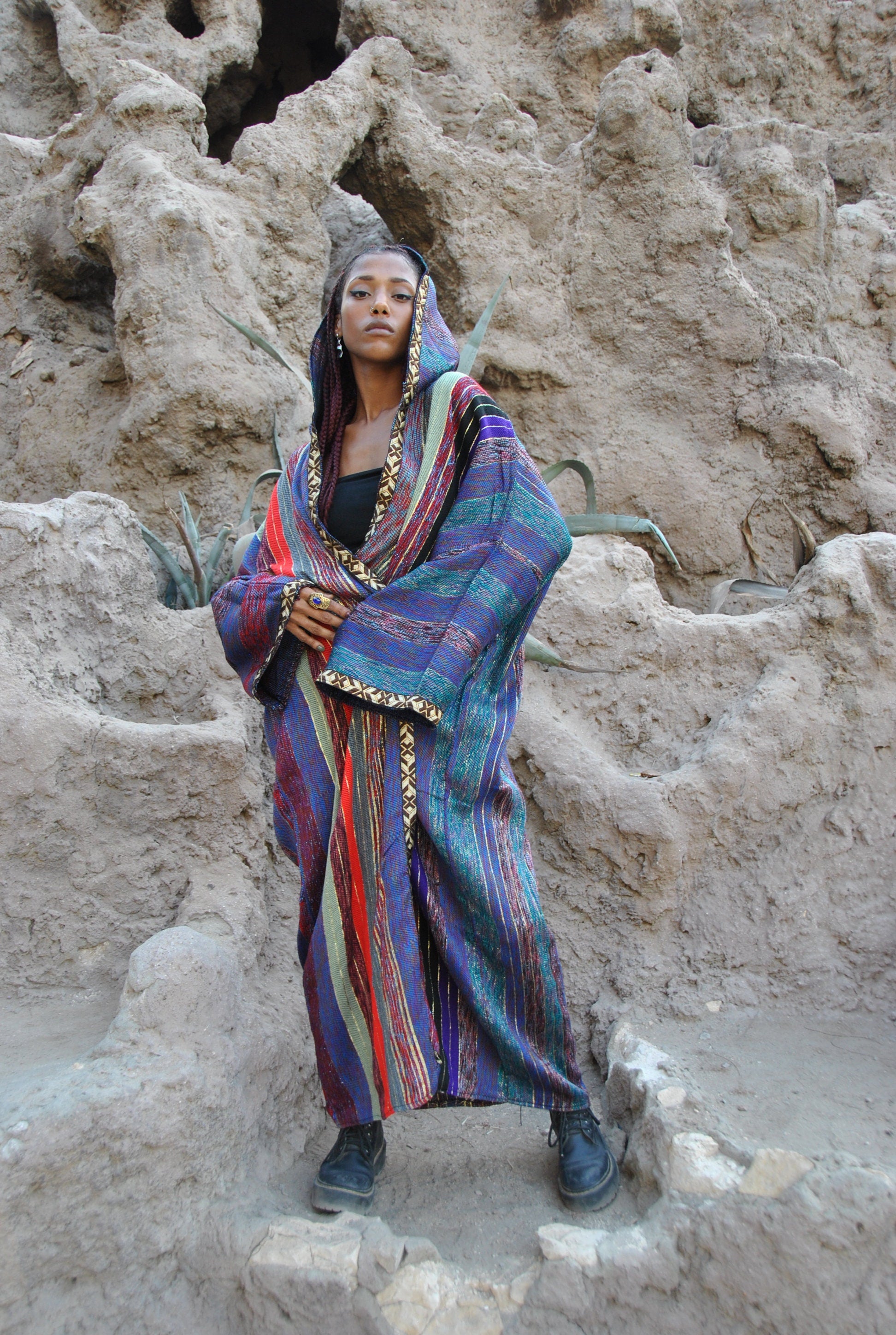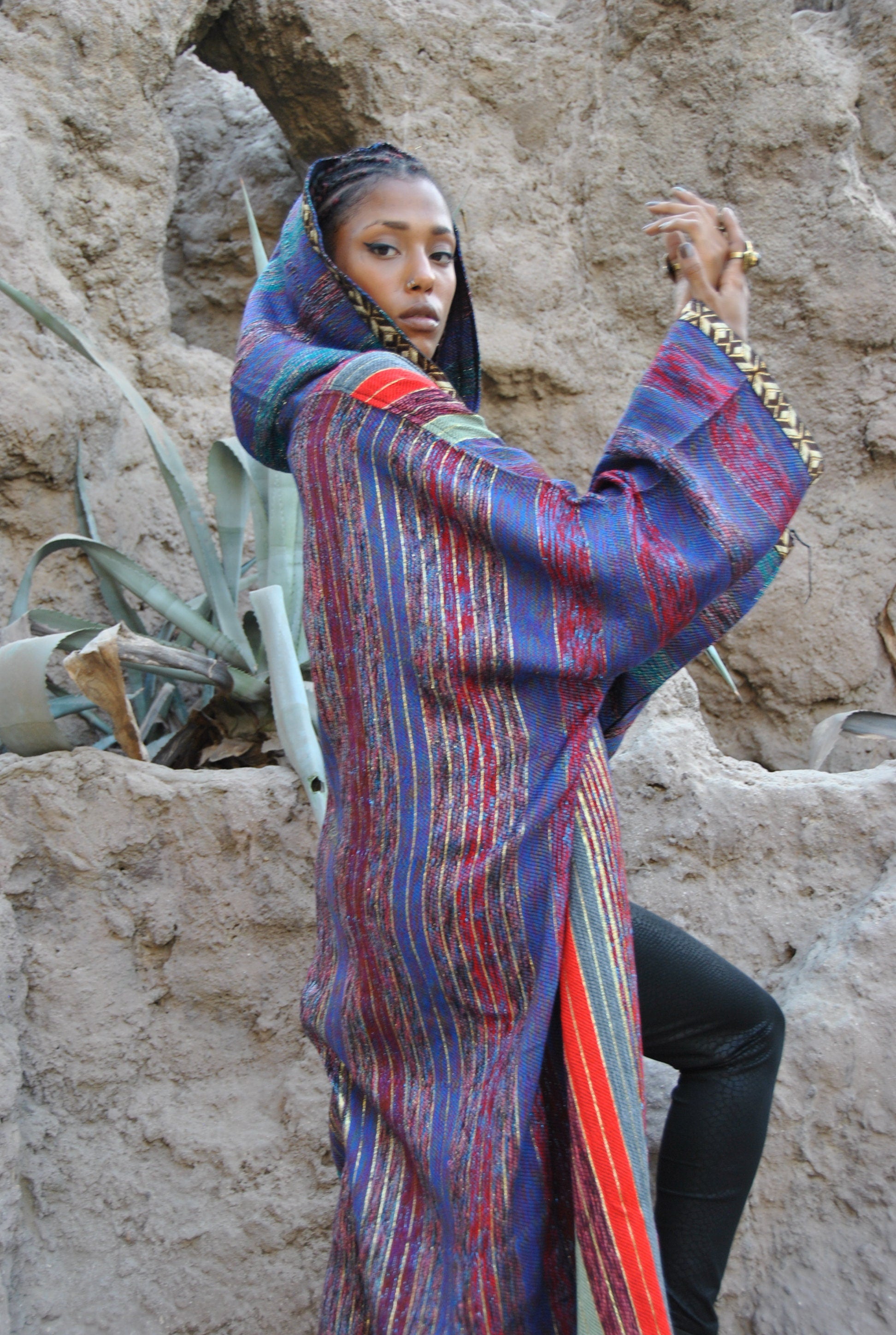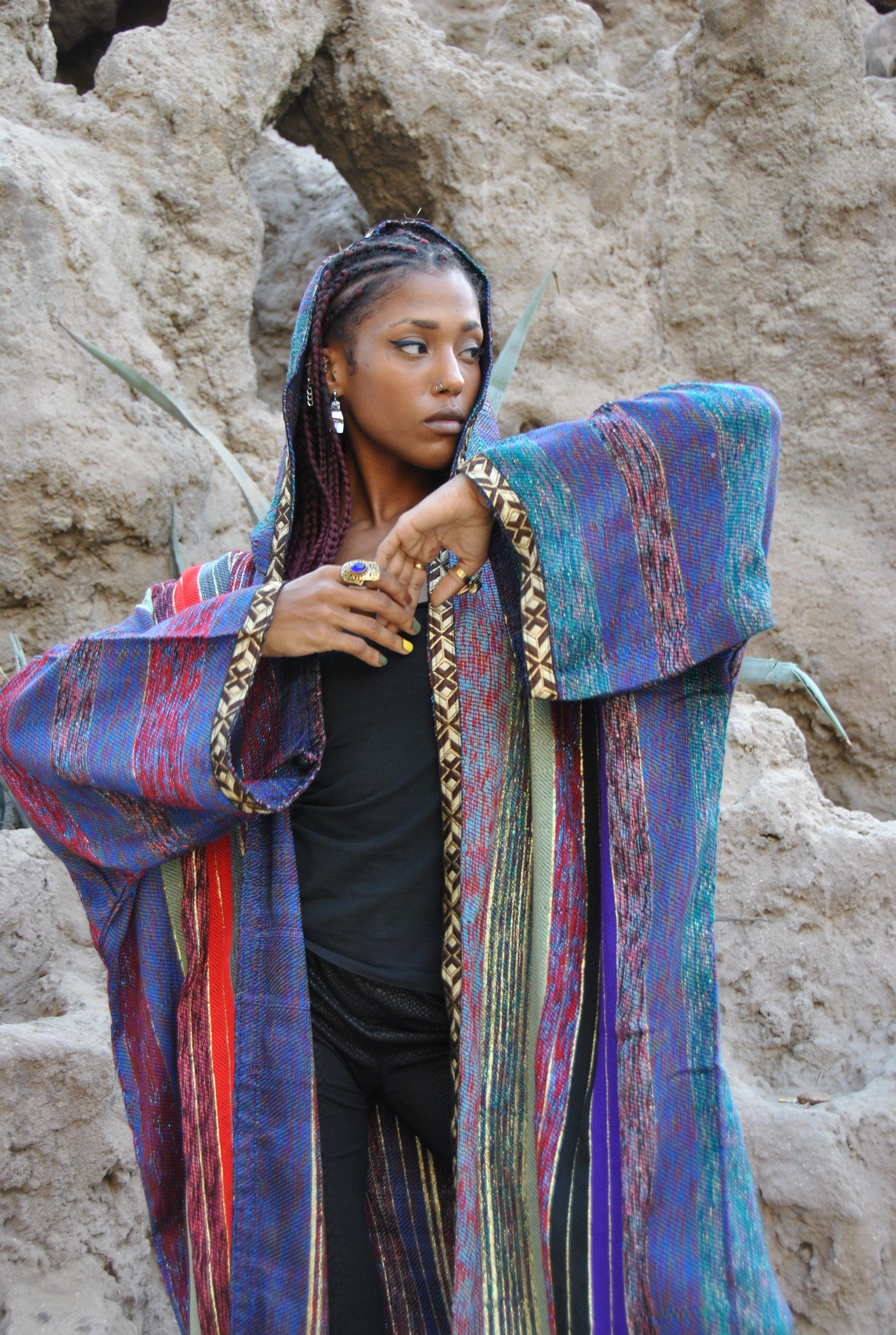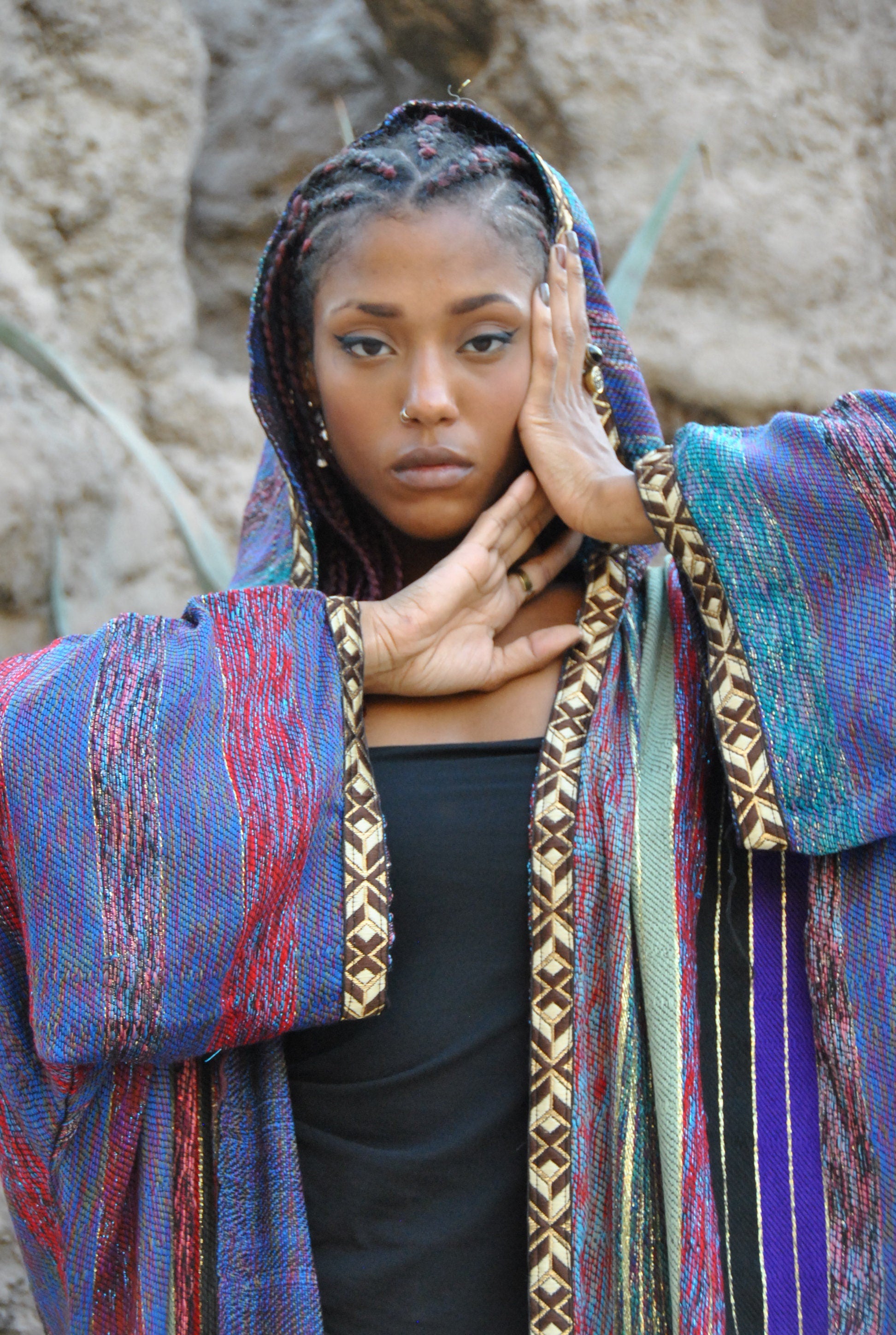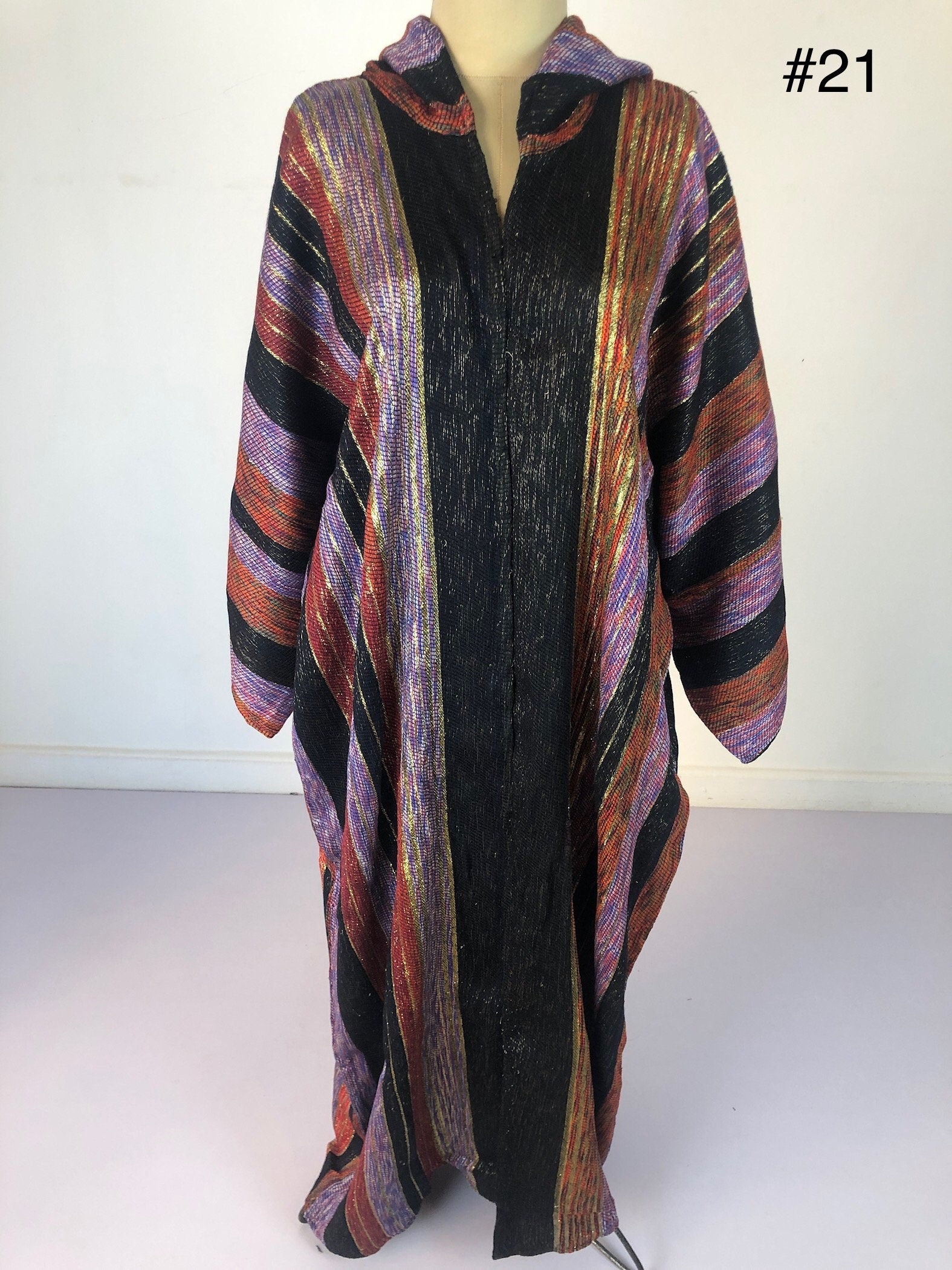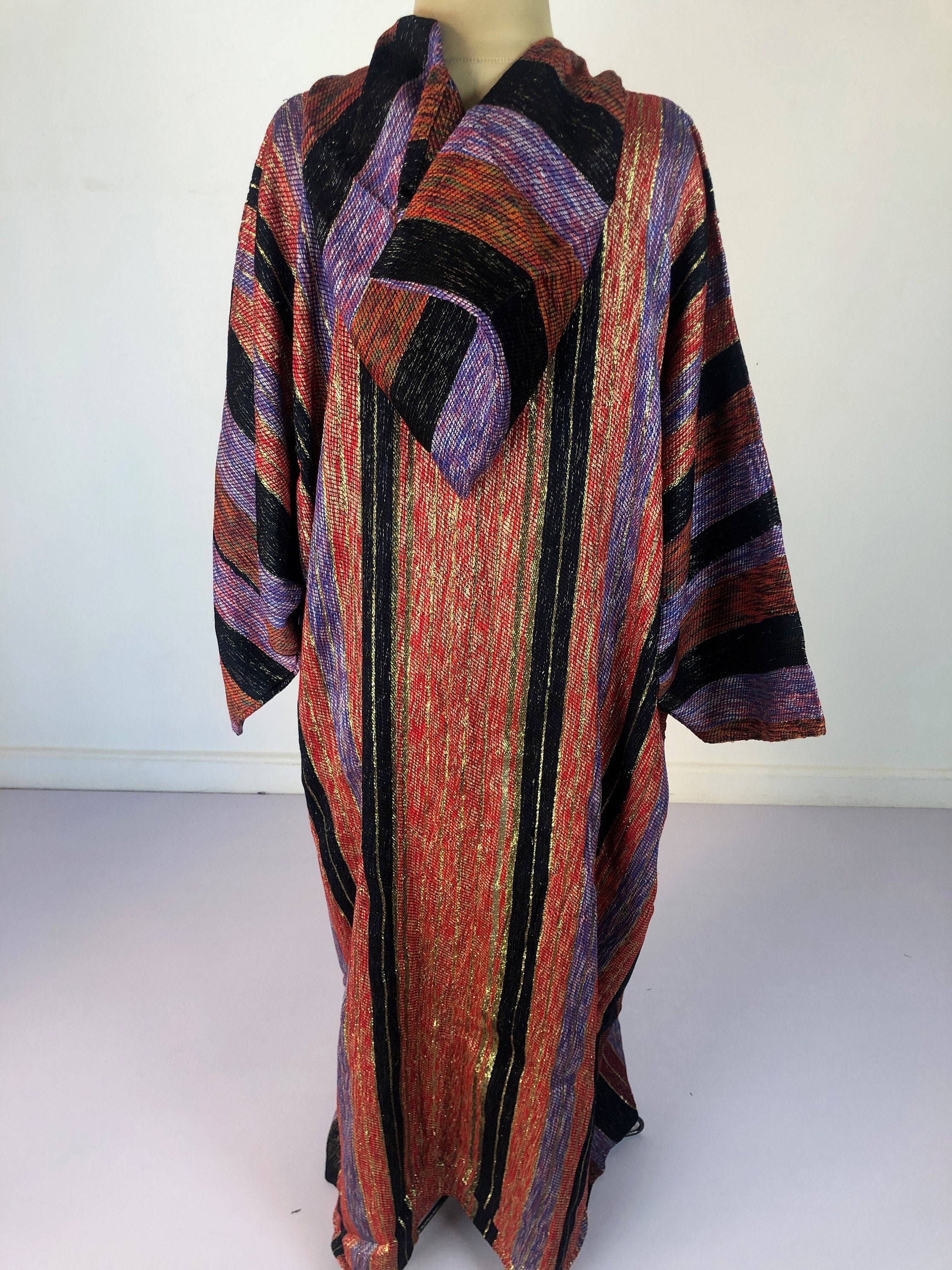 Luxe hand loomed hooded Kimono, Tribal wool Kimono, Plus size Egyptian Kimono jacket, Winter kimono jacket, Hooded Kimono, Hand loomed
**Note : The Abaya worn by the model is sold out. Since we don't make the same Abaya twice and each one is unique, we present the options available in the last photos on the mannequin. They have slight differences in color but are just as stunning.**
This beautiful Kimono / Abaya is made of 100% wool hand woven on a loom with Metallic linings hand loomed throughout the Kimono and a hoodie in the back. It is an instant head turner and true classic for any vintage lover. No amount of pictures can show the true elegance and details of the precision in the hand loomed linings, but it is absolutely stunning.
It is handwoven by Ali, a 70 year old great grandfather who has been weaving since he was 10. Ali is an artist, in the way he never makes two Kimonos with the same color patterns even if he uses the same pallets. He believes that every Kimono to be like a unique drawing and thus no two are alike.
This Kaftan is great for the winter time. You can wear it by itself or over jeans and a shirt to keep you warmer.
The dress is made of 100% wool.
Size : One size fits all
Bust : Up to 90 inches
Length : 59 inches
>> Shipping times<< We ship all orders with DHL or UPS Express within one to two business days. Delivery times to the USA and Europe are 3 to 5 days from the date of shipping. On average, you should receive your order within 4 to 7 days from the day you place the order. >> Refunds, returns, and exchanges<< We do NOT accept returns, refunds, or exchanges on 100% hand embroidered items like this. >>Europe and Canada customers<< Shipments to Europe and Canada might be subject to customs upon arrival. Sometimes shipments can be delivered without any customs or duties while other times they are. We are NOT responsible for these customs, duties, or any other charges that your country customs charge you. We cannot assess how much they could be as we have no control over them nor do we get that money. What we can do is declare a low value for the shipment. If you are in Canada or Europe and order from us, we will assume that you have read this note.
FAQ
Do the clothes shrink after washing?
No they don't. Most of our dresses are a mixture of cotton and polyester and so there's minimal to no shrinkage. The cotton/poly dresses can be machine washed and hung dry to preserve the embroidery.
Where is your shop located?
We are an online based fashion brand located in the land of the pharaohs Cairo, Egypt. This might seem far, but we ship our products Express and most of our customers have told us that our products arrive faster than some items they order inside the USA.
For any queries you can whatsapp us at :
+201205822115
What if i order the wrong size?
Don't worry! If you order the wrong size and would like to exchange for another size, we will send you a replacement for a marginal value around $30 for most dresses. Just reach out to us at the following email and we will resolve it :
gipcico@gmail.com
Shipping
Fast shipping
We ship our orders with UPS express so you will receive your order in the US within 3 to 4 working days.
Order tracking
We will send you a UPS tracking number so that you can see where your order is.
Returns & refunds
If you're not 100% satisfied with the product, contact us the email below and we will provide you with a full refund or send you a replacement for a marginal value.
gipcico@gmail.com