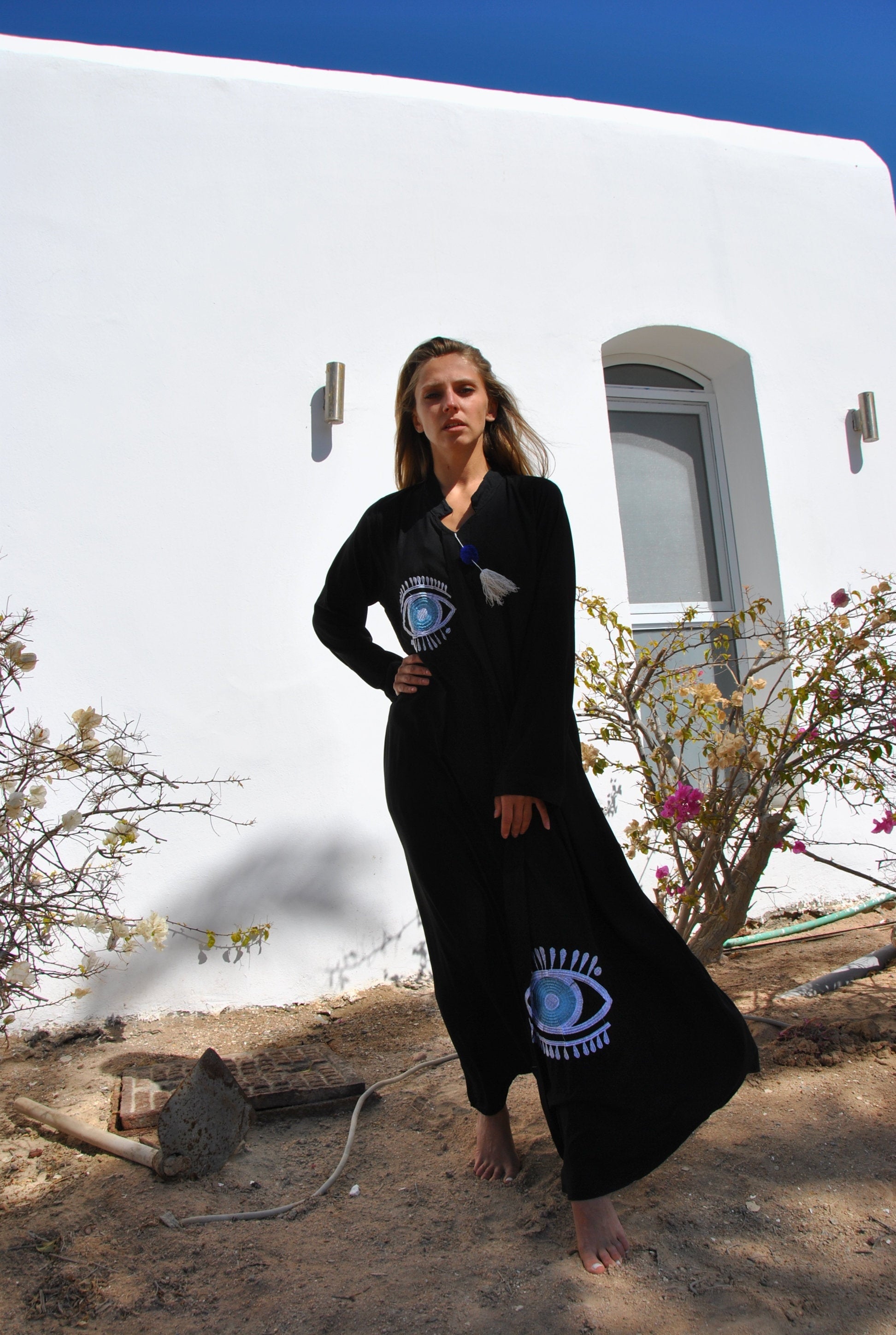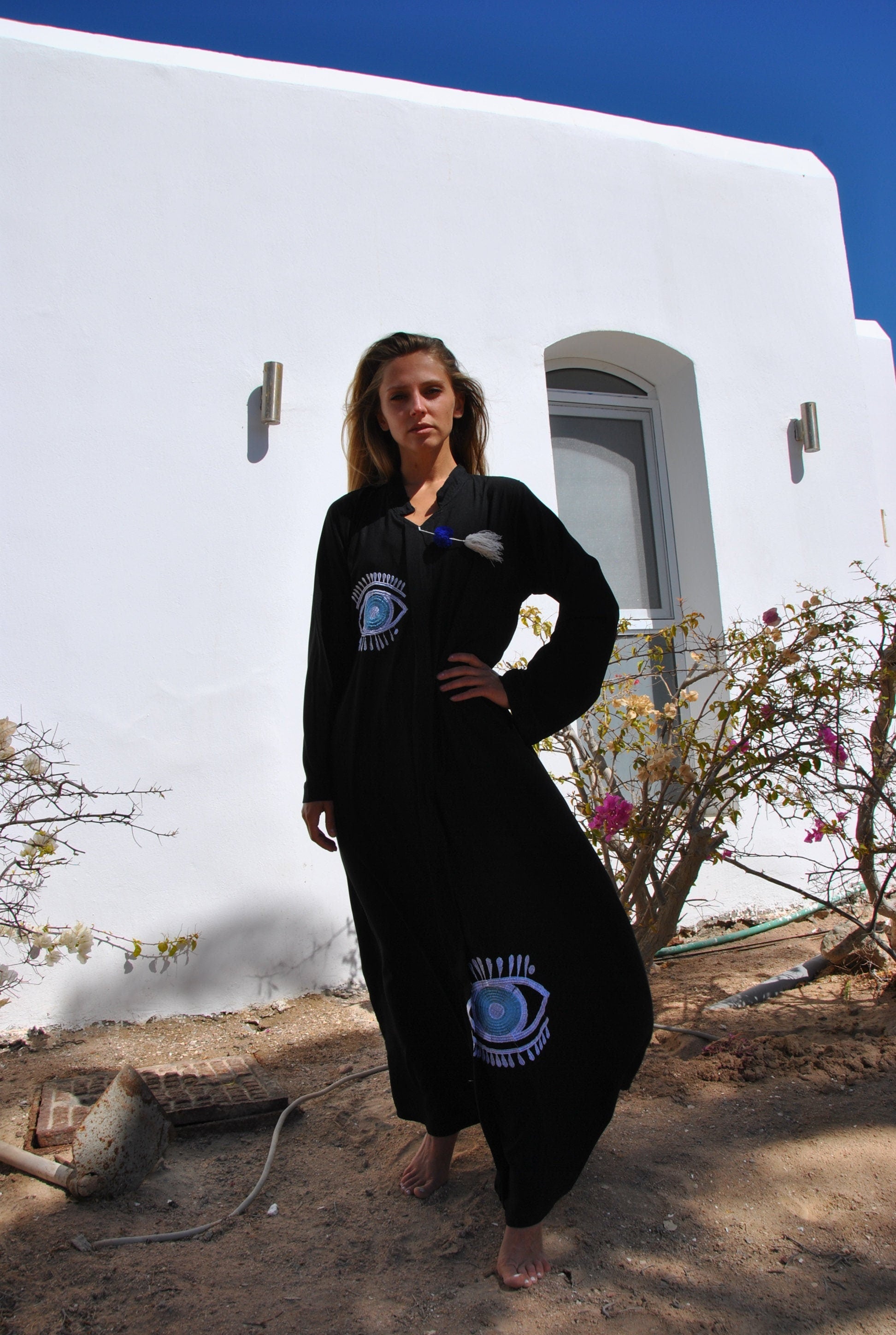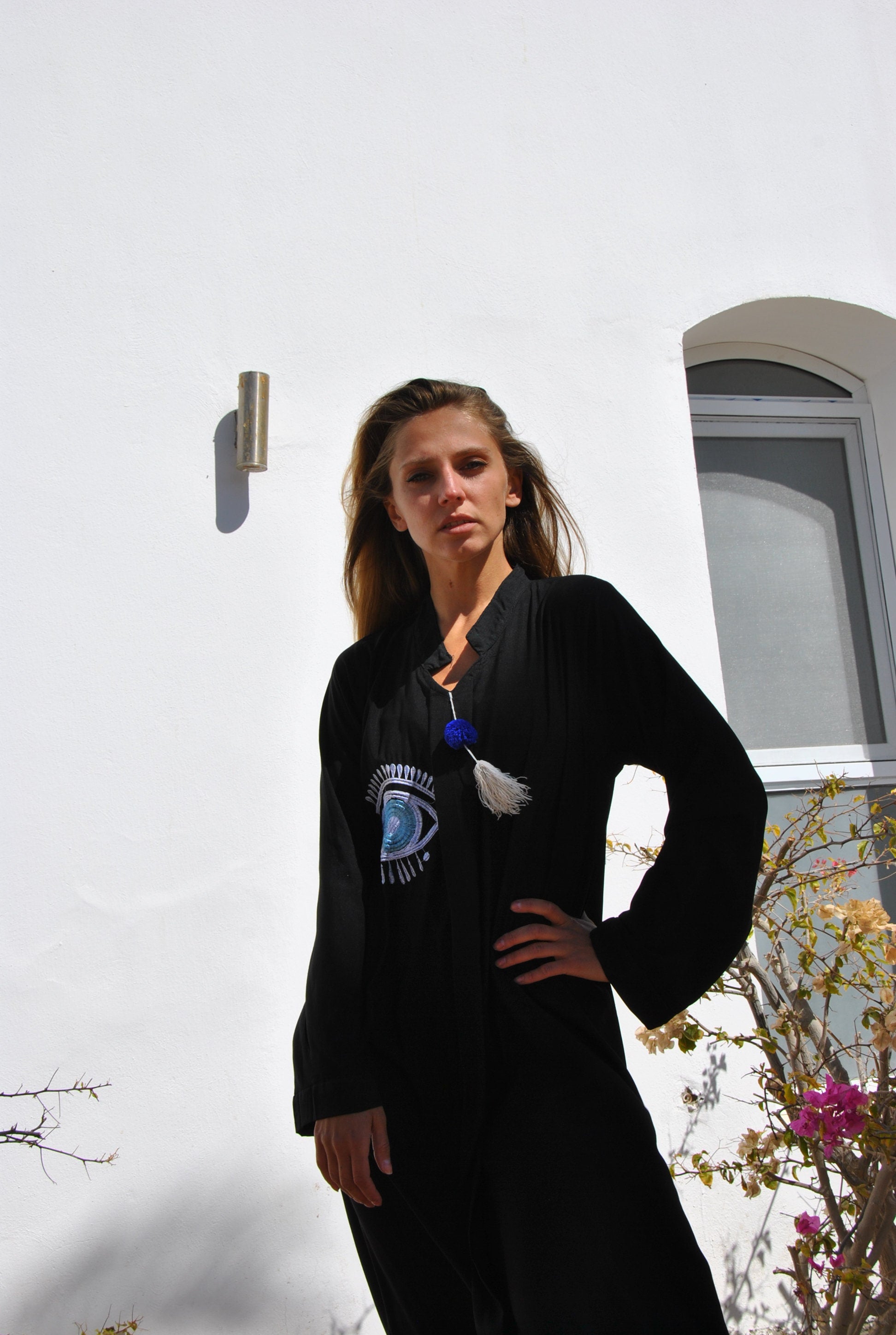 Black eye of horus caftan, embroidered Cotton caftan dress, African women clothing, Boho caftan dress, caftans for women, Boho summer caftan
This simple caftan with the eye of Horus eye embroidered on it is the perfect summer kaftan. The dress is made of extremely soft cotton, is light and extremely soft and can be used on many occasions - dinners, gatherings, beach, lounge, or even in your home to feel comfortable.
You can wear this Kaftan practically anywhere and for any occasion. You can dress it up with a pair of heels and strut like an Egyptian queen in any gathering, resort, or party. Or you can dress it down with a pair of sneakers/slippers and walk around your home feeling extremely free and comfortable while looking effortlessly stunning in your house dress.
Fabric : 70% Egyptian Cotton; 30% Polyester.
Sizes : This dress comes in two sizes. S/M which fits up to a size Medium (roughly size 10 US) and an L/XXL (size 20 US). Our sizes are in line with the US standards so if you're a medium in the US then you're a medium in our dresses.
Kaftan Measurements :
S/M : Bust - 40 inches; Hip - 46 inches
L/XXL : Bust - 49 inches; Hip - 57 inches
Length : 57 inches
For reference the model is 5'4 and a size small (4 US) and she is wearing the S/M of this dress. As you can see it fits her rather comfortably since it's designed to fit up to a size 10 US. Nonetheless it fits smaller sizes just as nicely like the model.
Note : The Kaftan in the video differs only in color, the rest is the same as the listing.
Shipping
We ship all orders with DHL express within one to two business days of your order. Orders to USA and Europe arrive within 3 to 4 business days from the date of shipping.
Refunds
If the item you received has any defect or is different than the pictures in the listing, please send us a picture immediately, and we will send you a new one or refund you 100% of what you paid if we don't have it in stock.
Returns and exchanges
We do NOT accept returns due to SIZE so please message us about size if you have any concerns before ordering.
We ACCEPT EXCHANGES due to size or any other reason for a discounted price. To do that, send us a message to see what we can offer. You will not be required to send us the item you received and we will send you the correct size or another kaftan in the same price range for a discounted price.
Returns - If you would like to return the item because you don't like the color, fit, or any reason other than the ones stated above, you are responsible to ship it to Egypt and bear the associated import taxes when we receive it at customs here in Egypt. We cannot assess how much the duties and taxes are going to be but they generally are very high for any package coming from the US or Europe.
FAQ
Do the clothes shrink after washing?
No they don't. Most of our dresses are a mixture of cotton and polyester and so there's minimal to no shrinkage. The cotton/poly dresses can be machine washed and hung dry to preserve the embroidery.
Where is your shop located?
We are an online based fashion brand located in the land of the pharaohs Cairo, Egypt. This might seem far, but we ship our products Express and most of our customers have told us that our products arrive faster than some items they order inside the USA.
For any queries you can whatsapp us at :
+201205822115
What if i order the wrong size?
Don't worry! If you order the wrong size and would like to exchange for another size, we will send you a replacement for a marginal value around $30 for most dresses. Just reach out to us at the following email and we will resolve it :
gipcico@gmail.com
Shipping
Fast shipping
We ship our orders with UPS express so you will receive your order in the US within 3 to 4 working days.
Order tracking
We will send you a UPS tracking number so that you can see where your order is.
Returns & refunds
If you're not 100% satisfied with the product, contact us the email below and we will provide you with a full refund or send you a replacement for a marginal value.
gipcico@gmail.com
Reviews
This review has no content.
This review has no content.
Super cute and hand-washes beautifully! I...
Super cute and hand-washes beautifully! I had to get it hemmed and the seamstress mentioned what a nice garment it is. The shipping was very quick as well. I am very pleased 🙂