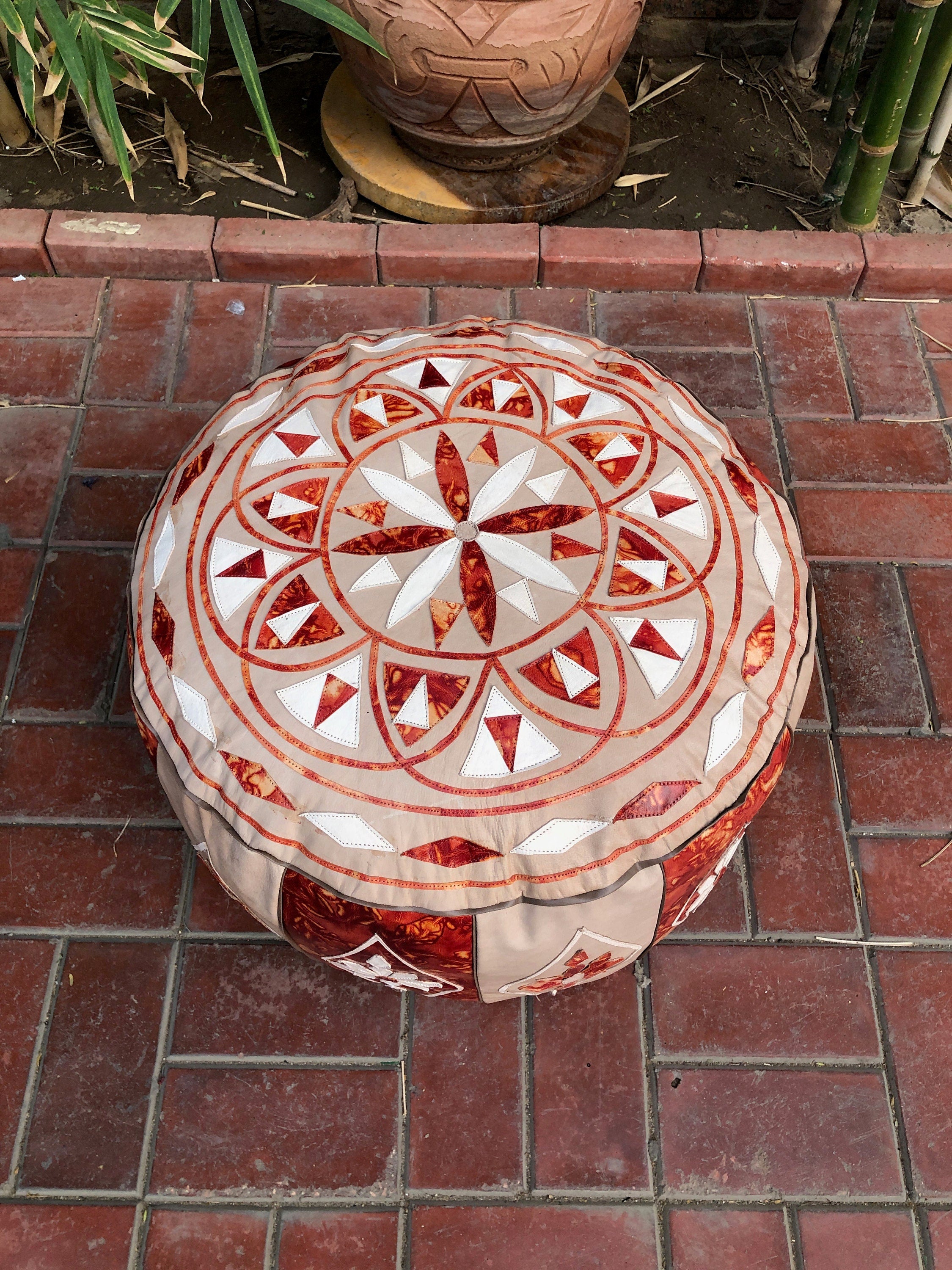 Eccentric Arabesque Moroccan pouf, Large Leather Poufs, One of a kind Pouf, Moroccan Pouf, Round Leather Pouf, Foot rest, bohemian pouf
Beautiful eccentric and highly detailed handmade Egyptian pouf made of 100% lambskin leather. Our poufs are very colorful bringing to life any area in your home and can be used as a footrest, extra chair, or just for decorative purposes.
Each pouf has a unique handmade arabesque style design, color pallet, and geometric patterns. No two are alike so you know you're getting a one of a kind piece.
Pouf dimensions when filled :
Circumference : 50cm (19.5 inches)
Height : 30cm (9.5 inches)
The craftsmen start the process by drawing up the designs, a process that comes almost second nature to our craftsmen after decades of experience and creativity in this craft. Afterwards, the craftsmen dye the leather and start outlining the designs on the leather. Next, they cut and sew each little patch of leather that is used to create the designs (that you see on the top and sides of the pouf) to the respective sizes, shapes, and colors. The whole process to finish the pouf takes no less than 10 hours and requires at least two craftsmen.
Important NOTE : The poufs specially the lighter colors like beige might contain some scratches or stains which occur during the countless hours of making the Pouf. If there is, we try to highlight it as much as possible in the last pictures of the listing. We don't consider these to be a defect, it's part of doing handcraft and gives it more value and authenticity. So if you don't feel the same way about these natural imperfections then please don't purchase it!
The poufs filling is not included. You can stuff it with anything at home like towels, plastic bags, old clothes or anything really.
>> Shipping times<< We ship all orders with DHL or UPS Express within one to two business days. Delivery times to the USA and Europe are 3 to 5 days from the date of shipping. On average, you should receive your order within 4 to 7 days from the day you place the order. >> Refunds, returns, and exchanges<< We do NOT accept returns, refunds, or exchanges on 100% handmade items like this. >>Europe and Canada customers<< Shipments to Europe and Canada might be subject to customs upon arrival. Sometimes shipments can be delivered without any customs or duties while other times they are. We are NOT responsible for these customs, duties, or any other charges that your country customs charge you. We cannot assess how much they could be as we have no control over them nor do we get that money. What we can do is declare a low value for the shipment. If you are in Canada or Europe and order from us, we will assume that you have read this note.
FAQ
Do the clothes shrink after washing?
No they don't. Most of our dresses are a mixture of cotton and polyester and so there's minimal to no shrinkage. The cotton/poly dresses can be machine washed and hung dry to preserve the embroidery.
Where is your shop located?
We are an online based fashion brand located in the land of the pharaohs Cairo, Egypt. This might seem far, but we ship our products Express and most of our customers have told us that our products arrive faster than some items they order inside the USA.
For any queries you can whatsapp us at :
+201205822115
What if i order the wrong size?
Don't worry! If you order the wrong size and would like to exchange for another size, we will send you a replacement for a marginal value around $30 for most dresses. Just reach out to us at the following email and we will resolve it :
gipcico@gmail.com
Shipping
Fast shipping
We ship our orders with UPS express so you will receive your order in the US within 3 to 4 working days.
Order tracking
We will send you a UPS tracking number so that you can see where your order is.
Returns & refunds
If you're not 100% satisfied with the product, contact us the email below and we will provide you with a full refund or send you a replacement for a marginal value.
gipcico@gmail.com