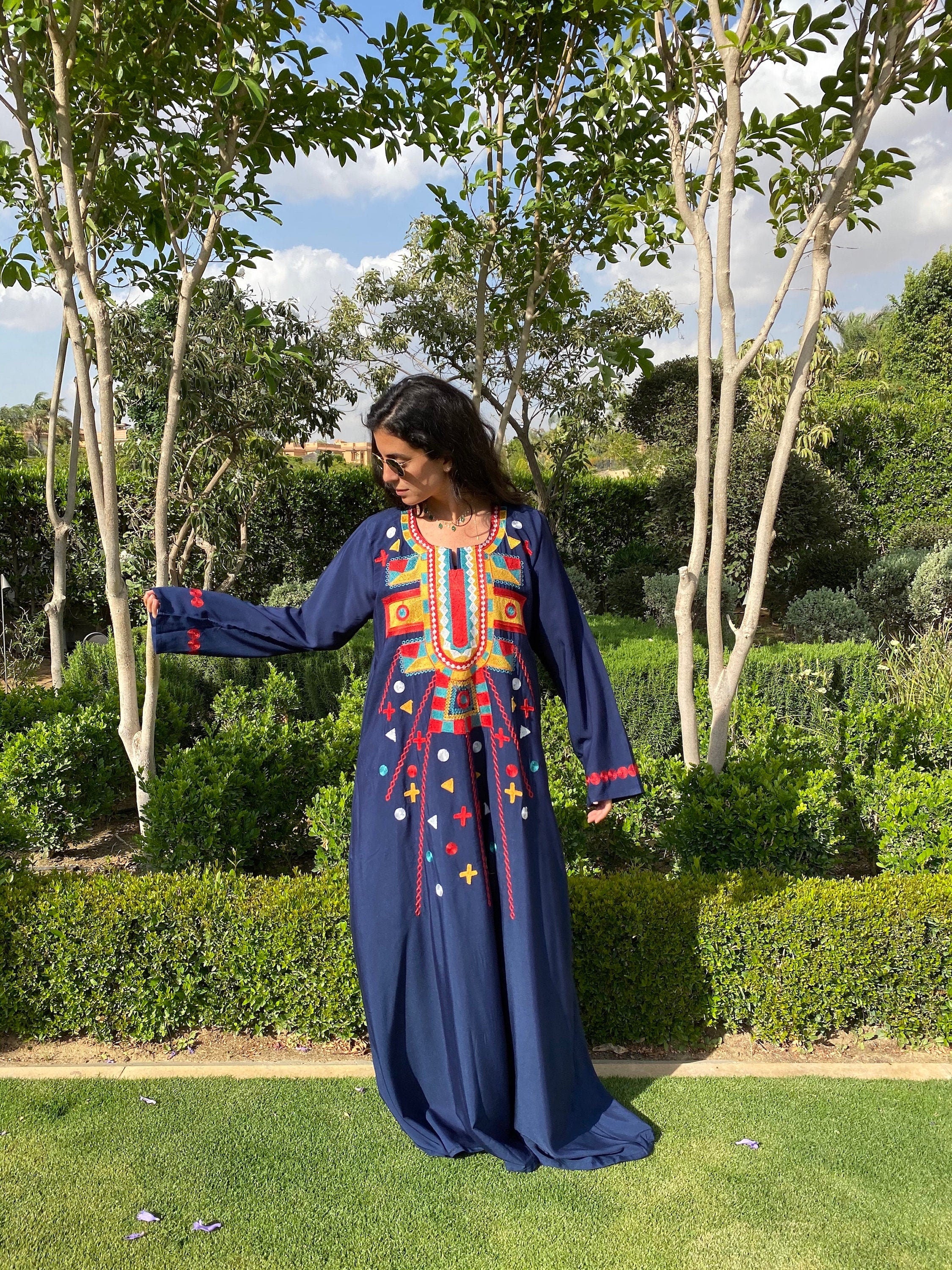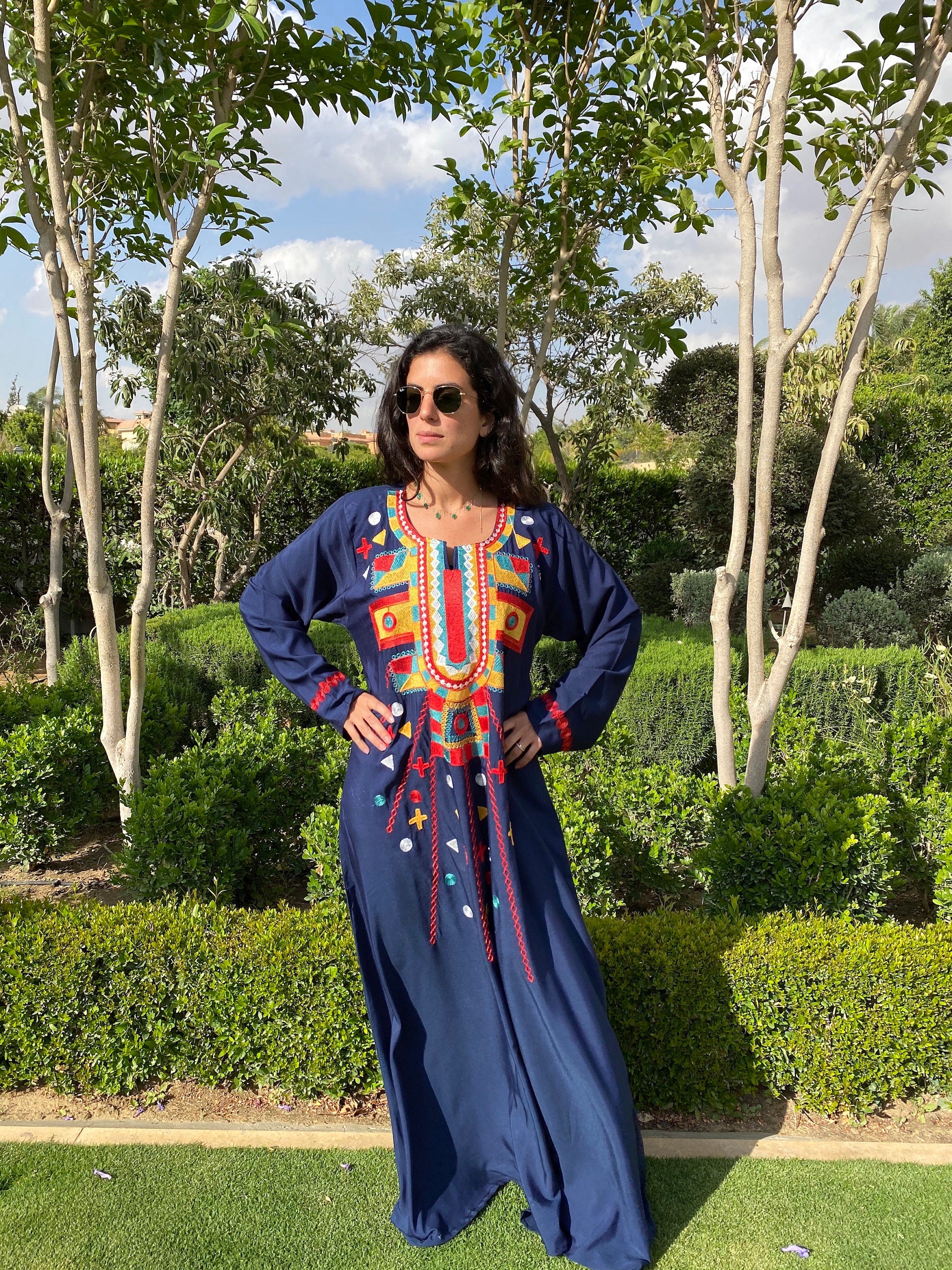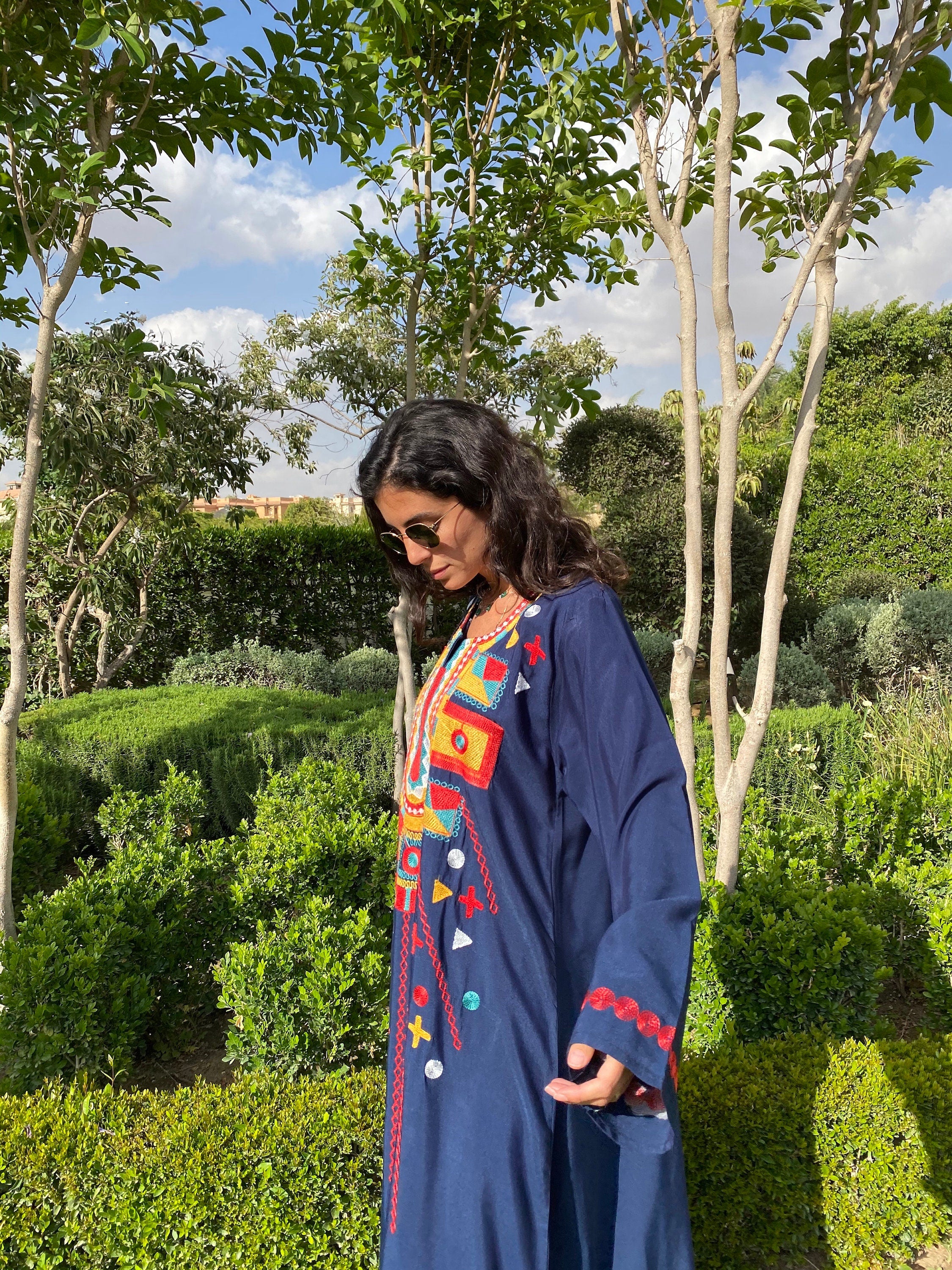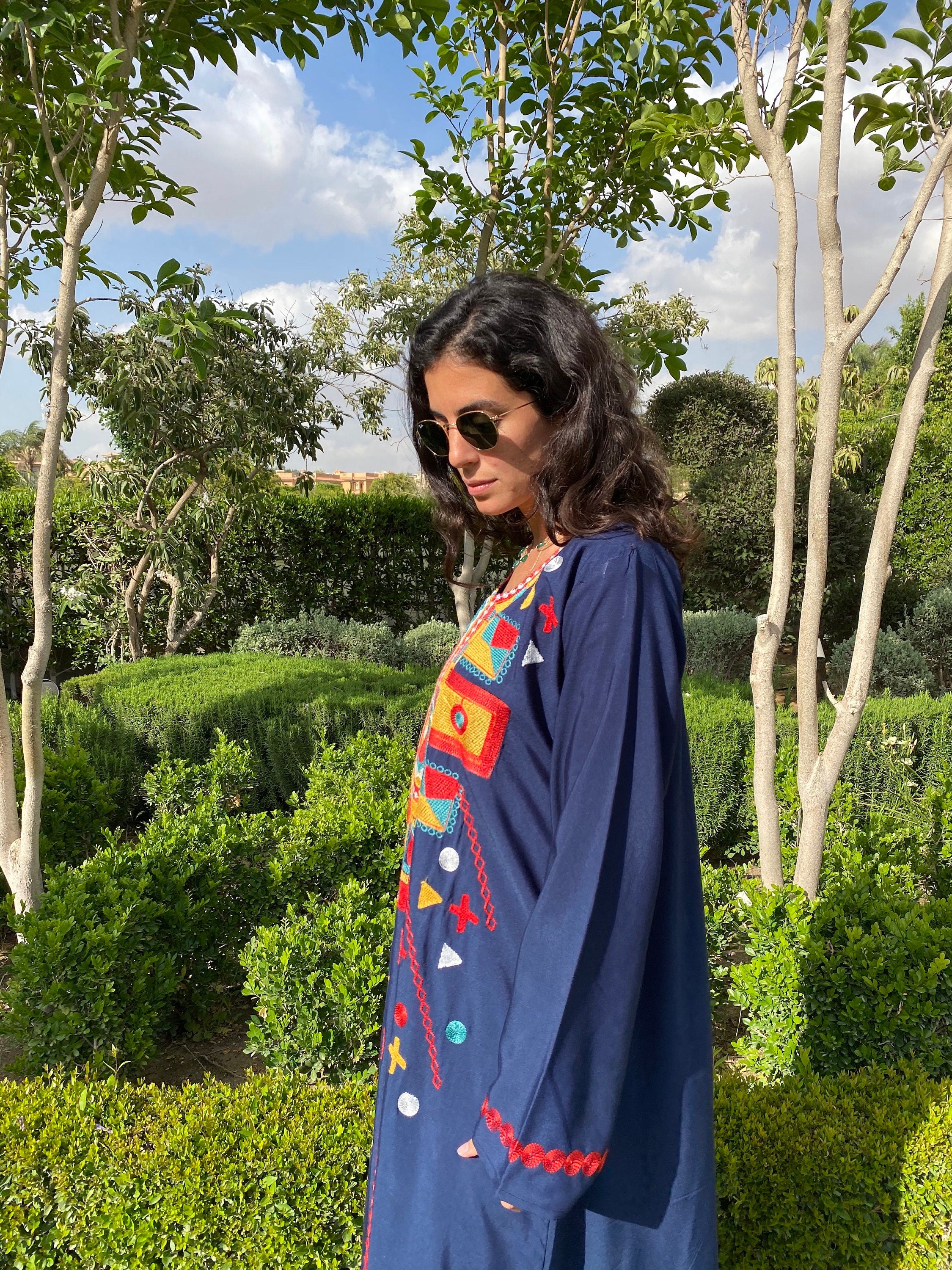 Siwa Long sleeve Navy Blue Multicolor embroidered Caftan, Spring Cotton Caftan, caftans for women, Caftans, Embroidered kaftan, caftans
This Caftan is great for those little chilly summer nights/days. The intricateness, color combination, and beauty of the embroidery is a show stopper and will surely get everyone's attention. It is the perfect dress for the summer.
The dress is made with Egyptian cotton which is world renowned for its quality and touch, making the dress an extremely comfortable wear, light and soft to the touch. You can wear it on the beach, resorts, parties, home gatherings, festival parties, or just in home to feel comfortable in the summer heat.
Material : 70% Egyptian Cotton and 30% Polyester
-----------Small----------------
Bust : 36-37 Hip : 40'-41'
-----------Medium------------
Bust : 39-40 Hip : 45-46
-----------Large----------------
Bust : 44-45 Hip : 50-51
-----------X-Large--------------
Bust : 47-48 Hip : 53-54
-----------XX-Large--------------
Bust : 49-50 Hip : 55-56
Length : 57 inches (145cm)
For your reference, the model is 5'4" (164cm) tall and a size small in the US scale. She is wearing a size Medium in the dress which is the smallest size this Caftan comes in, thus the caftan is a bit more loose on the model.
We ship all orders with DHL express within one to two business days. Orders to USA arrive within 3 to 4 business days and to Europe and other continents within 2 to 3 business days from the date of shipping. We will send you a DHL tracking number as soon as we ship your order.
Returns and refunds
We make sure that what we send you is top quality and so if the item we send you has any faults please contact us and send us pictures of the faults and we will refund you 100% immediately or send you a new one, no questions asked.
If you would like to return the item for any other reason, including fit, colour, size, or any other reasons we do accept returns as long as it's in the original condition. However, in this case you will have to ship it back to our address in Cairo, Egypt and there will be associated import taxes when we receive it at customs here in Egypt. You will have to bear all these expenses and furthermore, we will deduct $30 to $40 from the total value due to the shipping costs we have to pay to send you the dresses in the first place.
***
FAQ
Do the clothes shrink after washing?
No they don't. Most of our dresses are a mixture of cotton and polyester and so there's minimal to no shrinkage. The cotton/poly dresses can be machine washed and hung dry to preserve the embroidery.
Where is your shop located?
We are an online based fashion brand located in the land of the pharaohs Cairo, Egypt. This might seem far, but we ship our products Express and most of our customers have told us that our products arrive faster than some items they order inside the USA.
For any queries you can whatsapp us at :
+201205822115
What if i order the wrong size?
Don't worry! If you order the wrong size and would like to exchange for another size, we will send you a replacement for a marginal value around $30 for most dresses. Just reach out to us at the following email and we will resolve it :
gipcico@gmail.com
Shipping
Fast shipping
We ship our orders with UPS express so you will receive your order in the US within 3 to 4 working days.
Order tracking
We will send you a UPS tracking number so that you can see where your order is.
Returns & refunds
If you're not 100% satisfied with the product, contact us the email below and we will provide you with a full refund or send you a replacement for a marginal value.
gipcico@gmail.com